Undoubtedly, the roots of the Via Ferratas date all the way back to the First World War. Several secure paths were created in the mountain range named the Dolomites, in north-east Italy, to permit the troops to navigate their routes through the stony mountains.
The Italian Alpine Club has reinstated many of these paths and made them accessible to travelers, thus making the Via Ferratas one of the most famous outdoor activities of its own kind.
In the past few years, the Via Ferratas in Norway has experienced growth. If you have a liking for scary mountainous edges but cannot go through the trouble of arranging a rock-climbing gear of your own, consider taking a guided Via Ferrata tour. Our guide to Via Ferratas in Norway tells you all about the most unique, exciting, and daring adventure of a lifetime and the most thrilling routes to try.
What is Via Ferrata?
Via Ferrata is an adventurous mountain activity that lies somewhere amid rock-climbing and scrambling. A contemporary Via Ferrata comprises a succession of steel cables, ladders, and bridges running alongside the mountains. They are bolted into the rock at a distance of every 3 to 5 meters. Visitors then clip into these rails and use it as safety measures during the entire route.
This permits them to climb through the otherwise unapproachable route (unless you are a veteran rock climber). In Italian, the term Via Ferrata translates to 'iron way,' thus the iron pins, steel cables, and sturdy footholds.
Via Ferratas are a must-try for people who want to experience an adrenaline rush. This outdoor mountain activity is mostly favorable for adventure enthusiasts who are up for any form of challenge.
The good news is that no prior climbing experience is required for climbing via ferratas. Norway houses some of the most remarkable via ferratas in the world. Despite the Via Ferrata route you choose to board on, you are guaranteed to be exposed to the most breathtaking views from a totally different perspective.
Tips to Climb the Via Ferratas
Note that if this is your first go at climbing via ferratas, you are genuinely clueless about it. Hence, it is generally recommended to hire a guide for your first trip. However, if you have some experience and do not need or want a guide, there are 2 options available.
Rent the necessary gear from an established guiding company and pay a minimal fee to access the path.
Only pay a minimal fee for accessing the track if you are carrying your own gear.
The Best "Via Ferrata" Routes in Norway
A climb up the Via Ferrata is going to be one of the most incredible experiences in your life. It gives you the ultimate package of ultimate thrill, scenic vistas, and an unparalleled experience. Here are some of the best and most favorable routes for Via Ferrata tours in Norway.
1. Via Ferratas in Loen
The Via Ferrata Loen, indeed, provides visitors an unparalleled and unforgettable experience. Being one of Norway's best Via Ferrata routes, it gives you a chance to climb high over the fjord, encompassing Jostedalsbreen National Park and the colossal mountains. Situated in the core of Fjord Norway, Loen boasts the most serene and breathtaking vistas of glaciers, mountain crests, and lush creeks.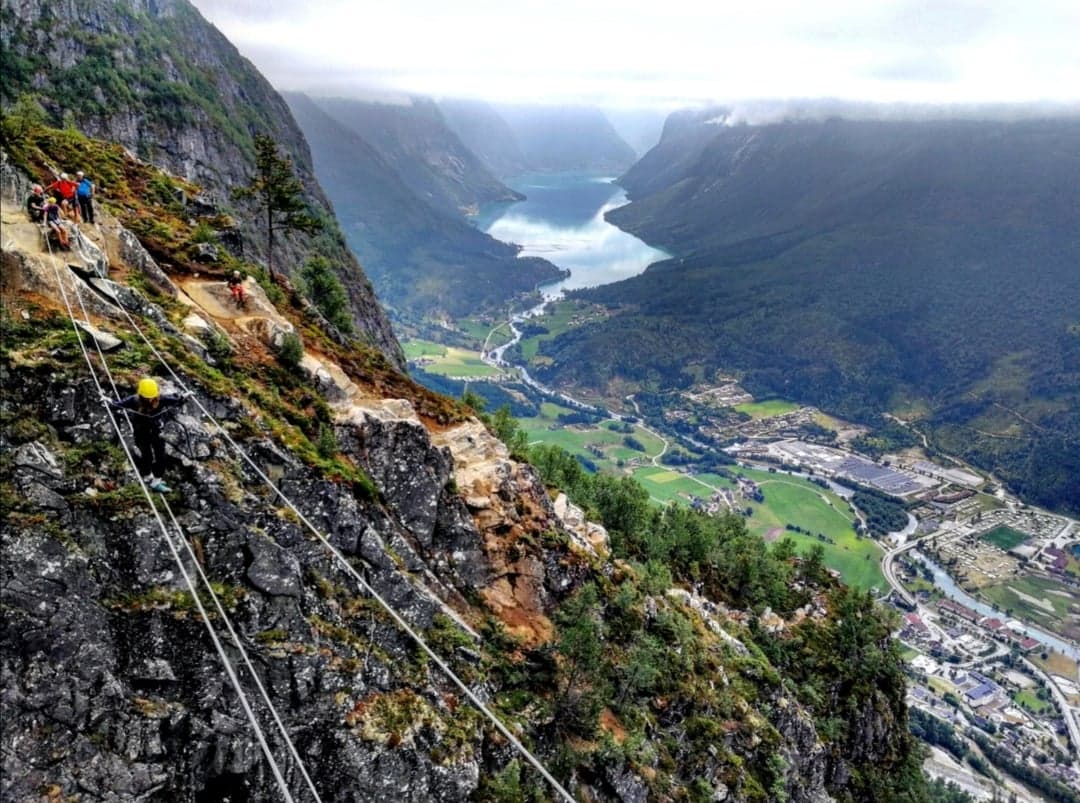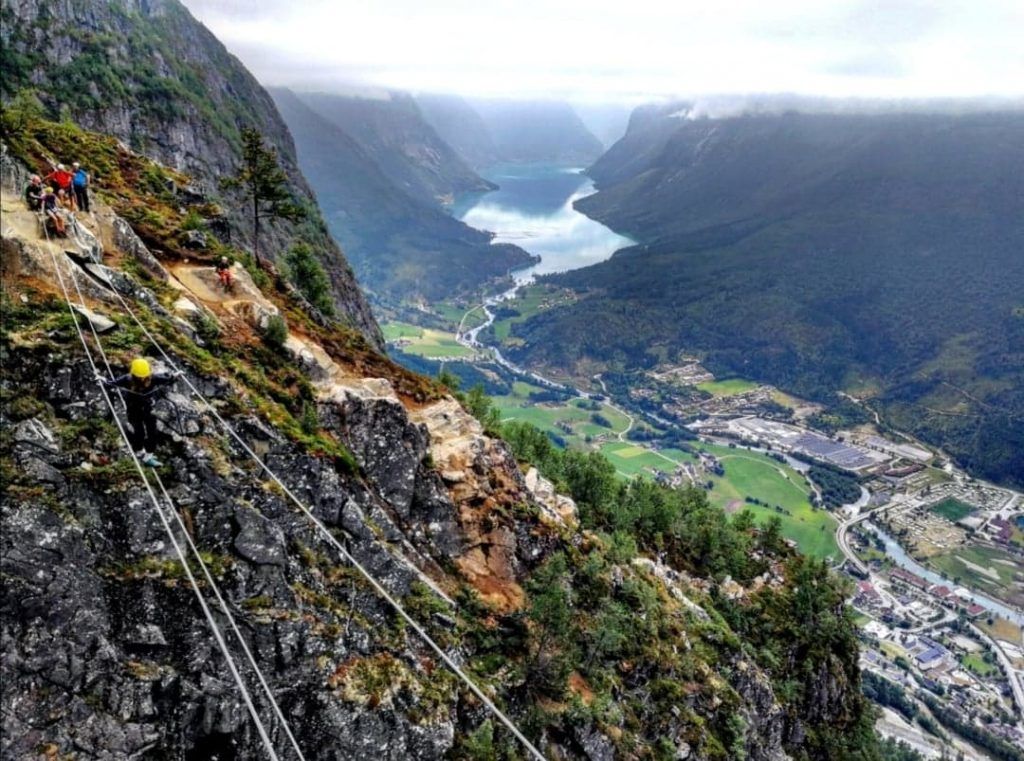 The Via Ferrata Loen path entails Europe's longest suspension bridge known as Gjømmunnebrua, stretching 120 m long. You can spot another shorter bridge on this route that is 36 m long and known as Gjølmunne. The course is completed once visitors reach the highest point of Mount Hoven, at the height of 3,316 feet above sea level.
This is the ultimate spot to unwind and relax and enjoy the picturesque view before hopping on the Loen Skylift, an exciting cable car ride. Then, return back to the inlet level on foot using the mountain road or via Loen Skylift cable car. The guide we recommend you use for the Via Ferrata Loen and gear rental is Loen Active.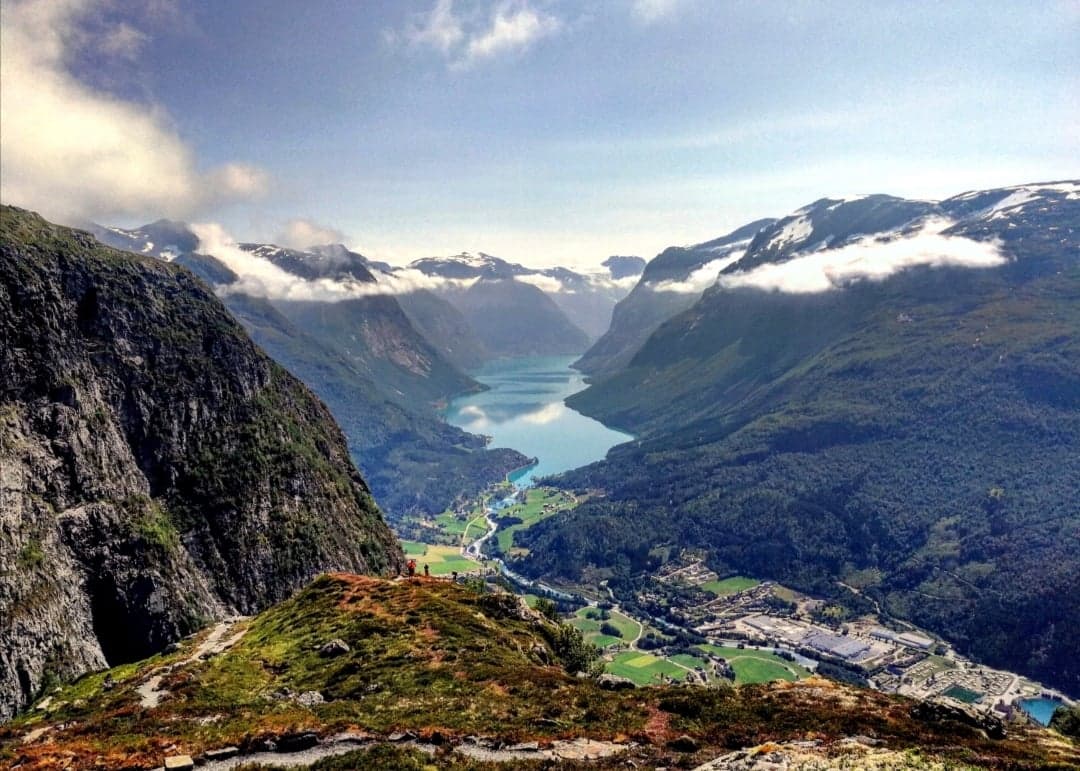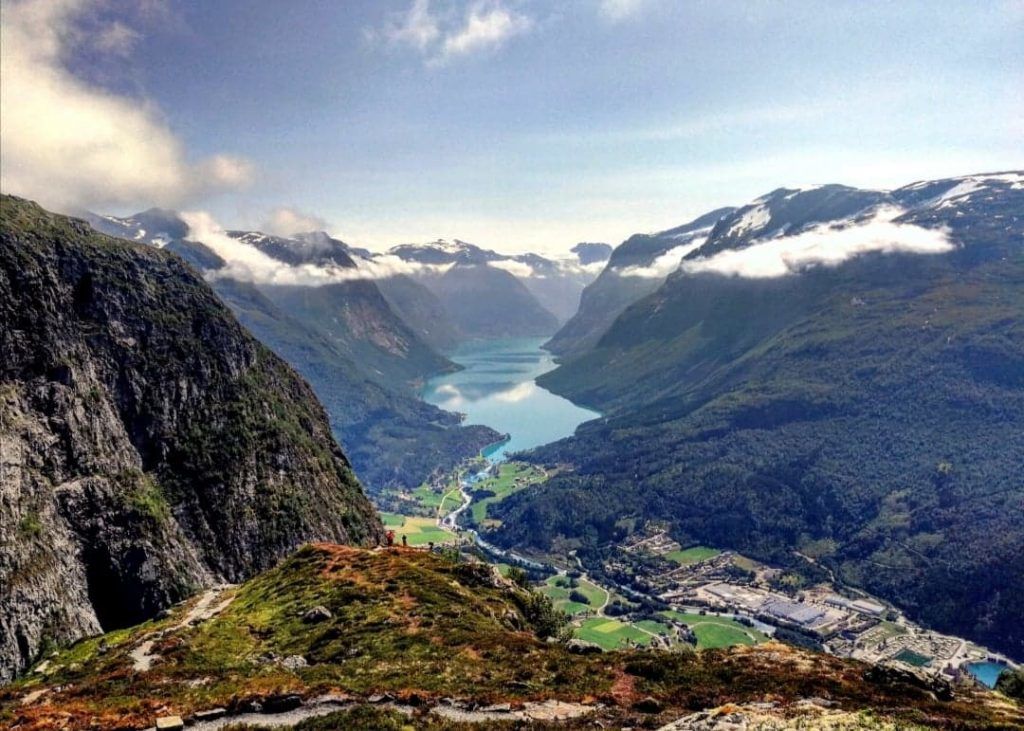 Loen Active offers veteran guides who help you get past the Via Ferrata route and return to the creek level via Loen Skylift. The package includes a harness and helmet and the necessary gear. You can even combine your rock-climbing adventure by making a pit stop at Hoven Restaurant for lunch or dinner.
2. Romsdalsstigen Via Ferratas
Cushioned amid the magnificent Romsdalsfjellene Mountains in the town of Åndalsnes is the Romsdalsstigen Via Ferratas. While climbing the Romsdalsstigen Via Ferrata, you will witness the enticing sights of the Romsdal Valley and Romsdal Creek. This route comprises 2 walls to climb on. Hence, you can decide the level of difficulty you can take on.
The Intro Wall takes around 3 to 4 hours to climb, with very little or no prior climbing experience required. Contrariwise, the West Wall is more demanding yet incredibly satisfying and rewarding. The West Wall leads to the highest summit of Mount Nesaksla, from where you can savor a 360-degree view of the mesmerizing valleys underneath and trek past a suspension bridge.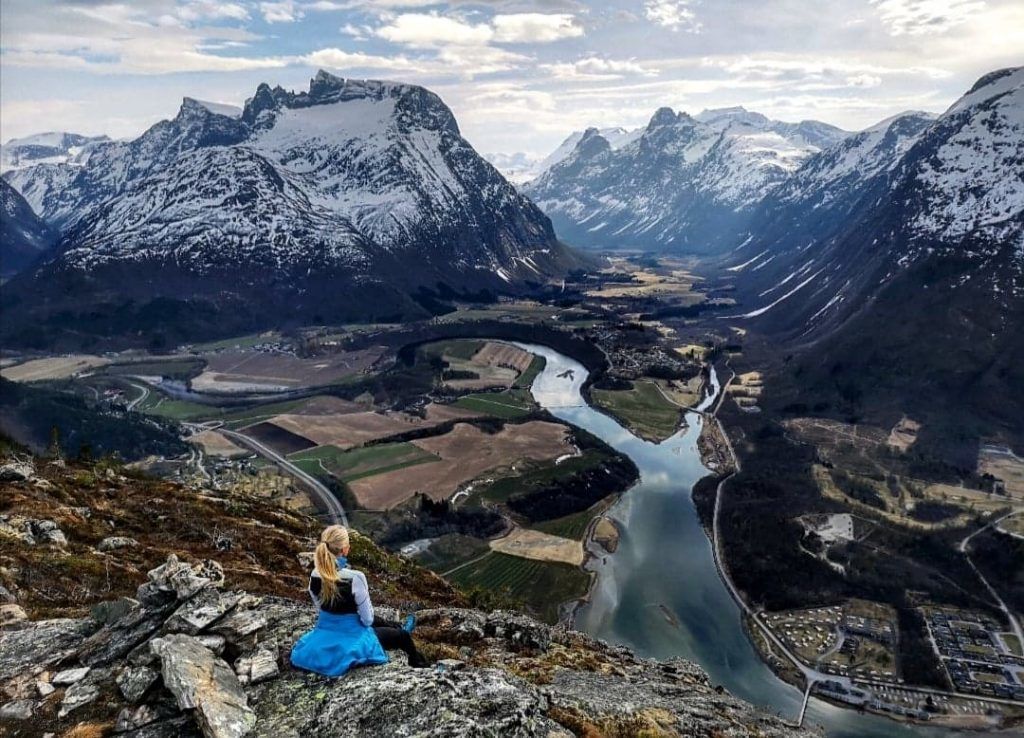 Visitors also have the chance to stand atop Rampestreken, an observation platform situated 1805 feet above sea level. Regardless of the wall you will climb, you can be guaranteed to expect an adrenaline rush. The guide we recommend you use for the Romsdalsstigen Via Ferrata is Norsk Tindesenter.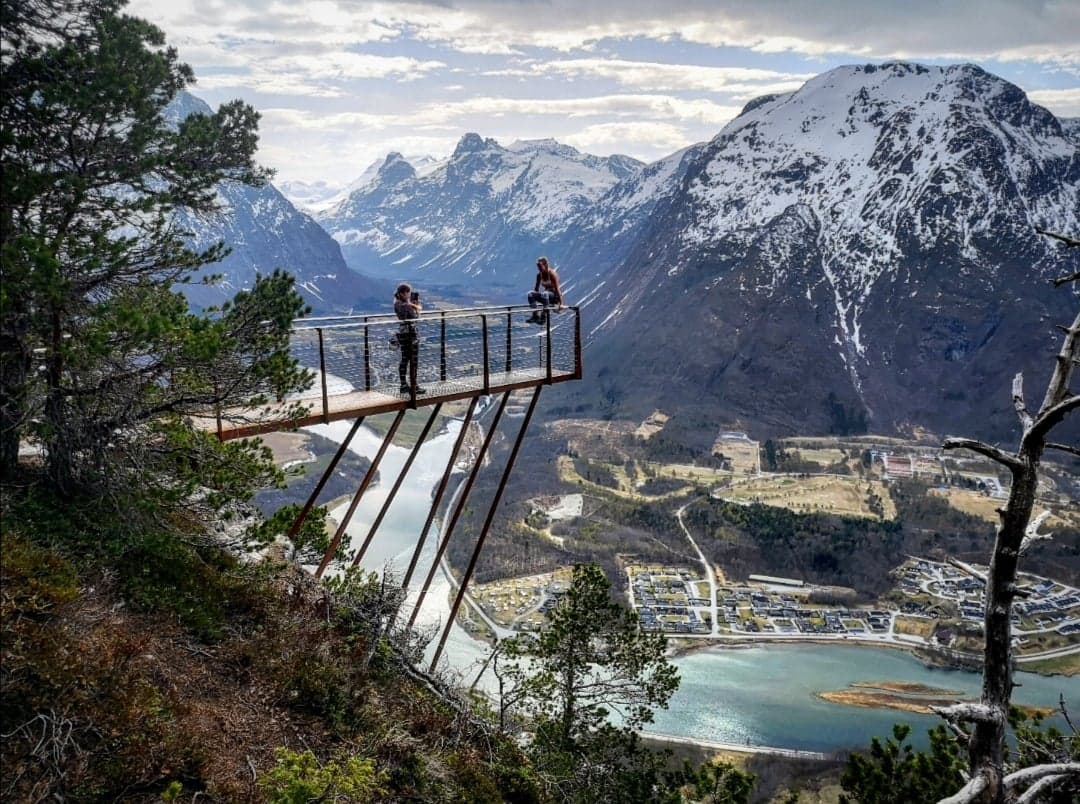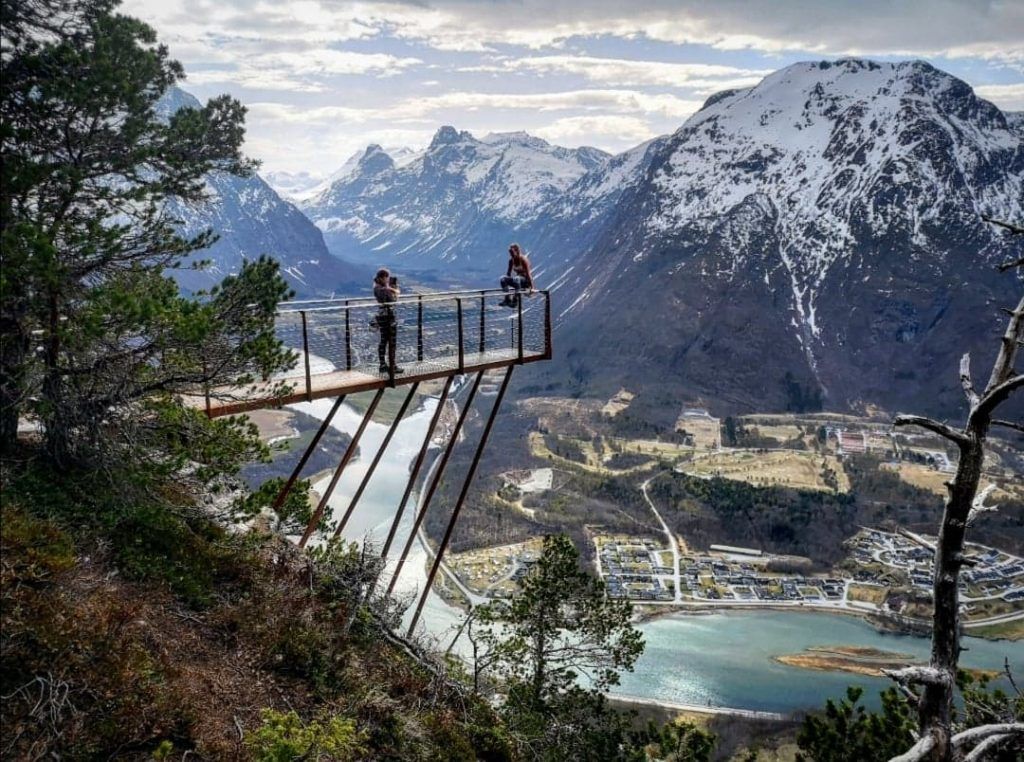 3. Trolltunga Via Ferrata
The Trolltunga Via Ferrata prepares for an ultimate escapade of epic adventures like hiking, cycling, and climbing. This fantastic route offers visitors a chance to hike a via ferrata atop one of the most idyllic and mind-blowing Norwegian cliffs, the Trolltunga.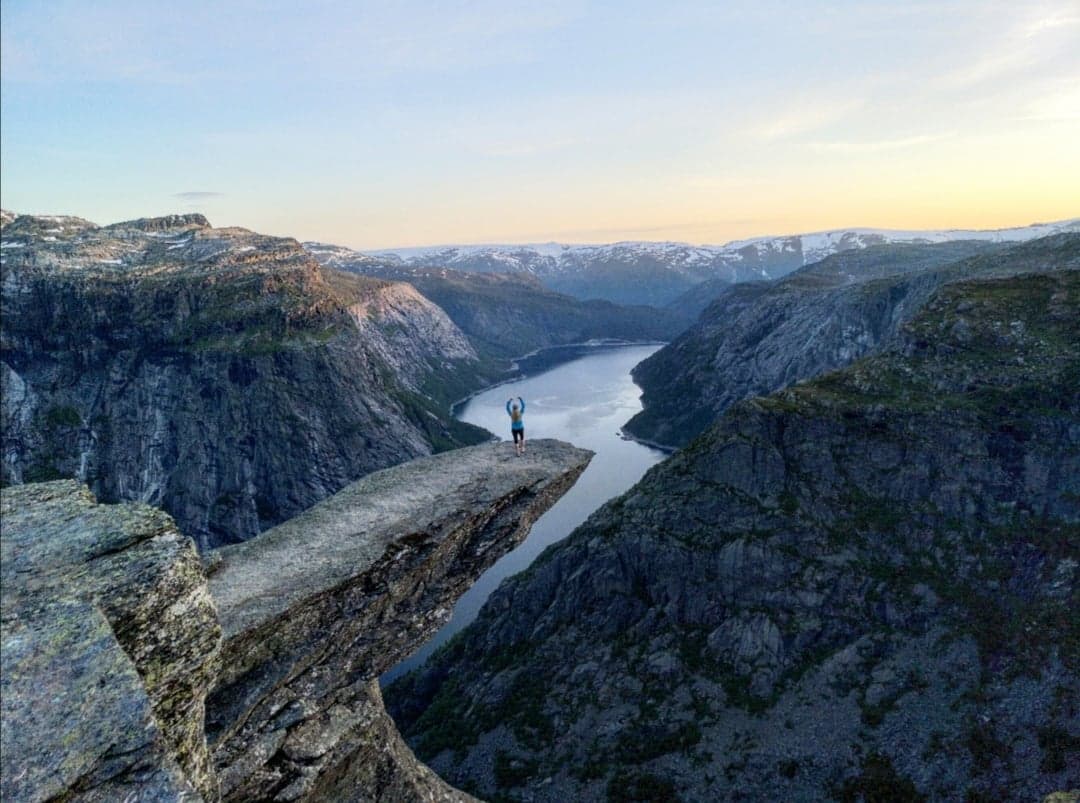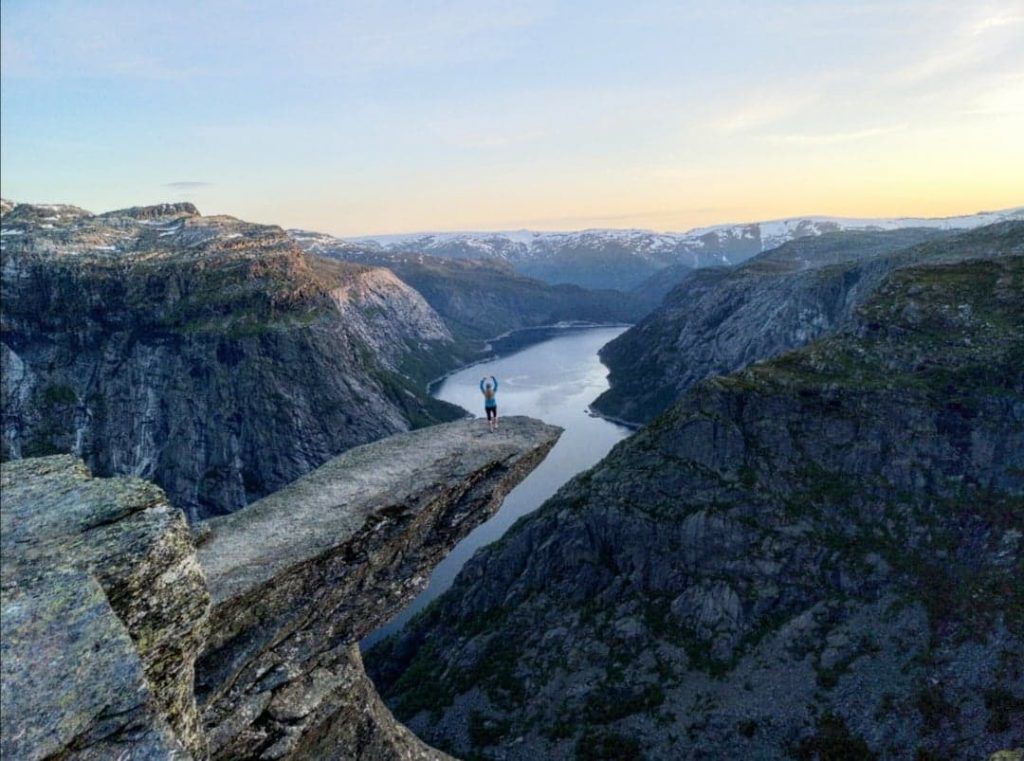 Besides that, you can savor a pleasurable bike ride alongside the Ringedalen Lake before you embark on an excursion to Trolltunga Via Ferrata. This is relatively recent via ferratas of Norway that definitely deserves to be explored. The expedition does not come to a halt even when you reach the Trolltunga summit.
From here onwards, you can hike further towards the Tyssehylen Lake, following a breathtaking 984 feet twin cascade called Tyssenstrengene. End your journey by going downhill via the Trolltunga mountaineering trail. The guide we recommend you use for the Trolltunga Via Ferrata is Trolltunga Active.
4. Via Ferrata Straumsfjell
Another fantastic via ferrata route in Norway worth climbing is the Via Ferrata Straumsfjell, also known as Via Ferrata in Velle or Via Ferrata Setesdal. It is deemed an incredibly difficult, daring, and most prolonged via ferrata of Northern Europe.
Though the route is terribly challenging to hike, the outlooks you get once you reach higher altitudes make the challenge worthwhile. From atop, you can grab splendid panoramas of the scenic 130-mile long Otra River, the region's largest river, and Setesdalen Valley. Altogether, it is a 0.94-mile-long route while connected to the cable, with an additional 0.63-mile hike.
The elevation gradually increases by 1804 feet above sea level as you find your way to the Mount Straumsfjellet summit, situated 2615 feet above sea level. The guide we recommend you use for the Via Ferrata Straumsfjell is Helle Camping.
5. Via Ferrata Kyrkjeveggen
At the innermost end of the Åkra fjord in western Norway, you can find a new crazy strech of Via Ferrata. A 1000 meter high wall behind the church, straight up to the top.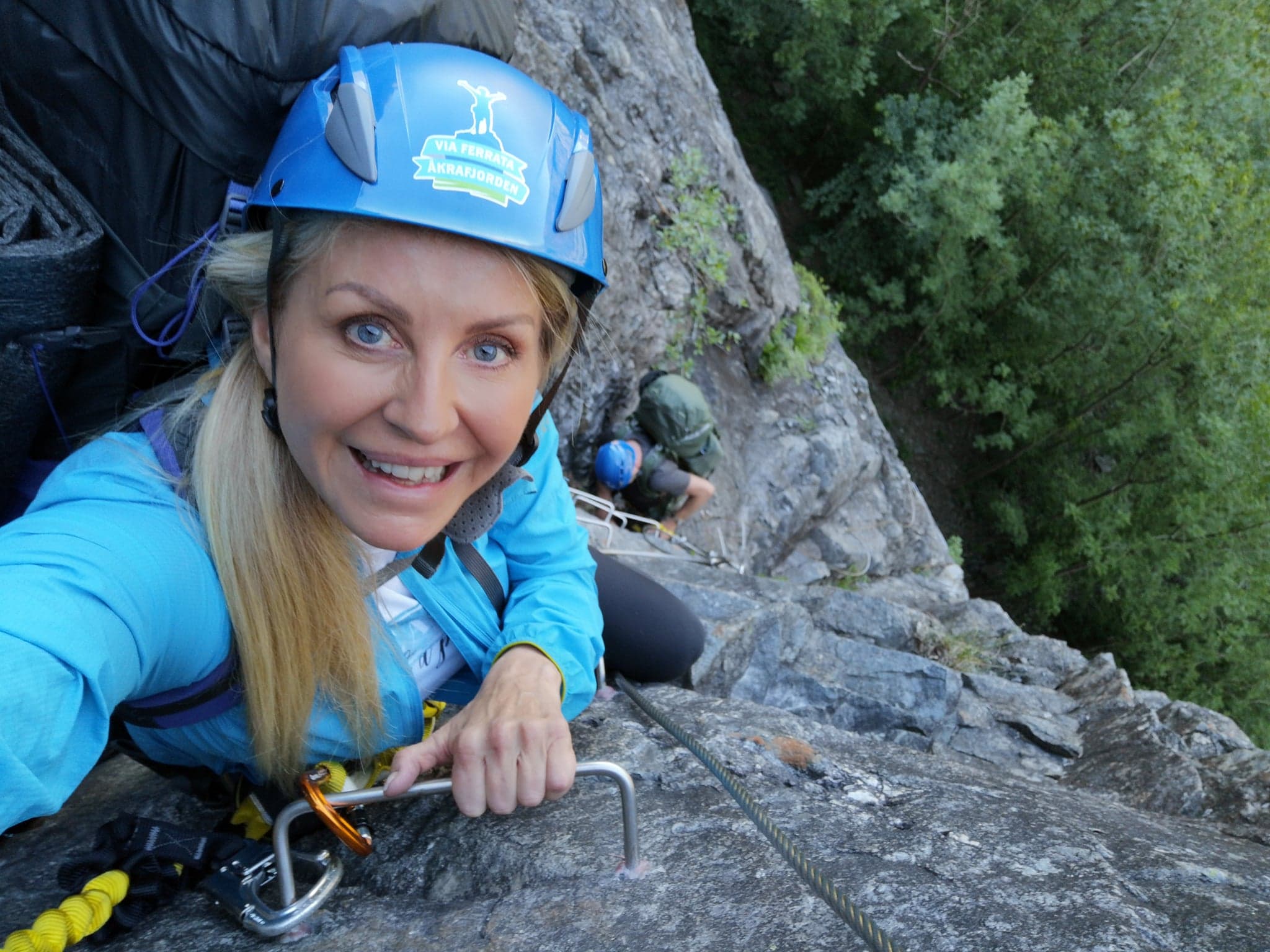 In the distance, from the top, you can see Langfoss. The waterfall Langfoss was voted the world's most beautiful waterfall by CNN in 2006 and among the 10 most beautiful waterfalls again in 2011. It is a spectacular sight and a beautiful reward at the end of this climb. Read all about this crazy adventure here
Essential Things to Know Regarding Via Ferratas
Suppose you are new at climbing via ferratas. In that case, there are some essential pointers you must keep in mind before preparing and getting set for it. Here are some noteworthy facts you should know and take care of before you start the climb.
1. Leave early to evade the long queue.
All via ferratas have only one fixed route that is the same for everyone. Hence, everybody has to stay on the same track and follow the path. Since either you are following people or others are behind you, following the same wire, it is impossible to overtake.
Popular routes can be filled with a massive queue of people and crammed by those walking ahead at a slow pace. Reaching your course earlier than others enables you to access the first cable car before others.
2. Wear padded gloves and carry a rucksack.
The most necessary gear needed for climbing via ferratas includes a Ferrata kit, a harness, and a helmet. However, the climbing experience becomes a tad more comfortable if you wear cushioned gloves and carry a tiny rucksack. Remember that a good quality Ferrata kit is vital for securing your life in case of a fall.
3. Via Ferratas requires utmost commitment until the end.
The majority of via ferratas have only one route from the beginning till the end. Even though this makes finding directions easy, it also means that there is no going back. Once you have started the via ferrata route, you are stuck on it till the end. A handful of guidebooks provide an escape route or two, but several do not have any.
4. Do not trust and rely on the guidebooks.
It is unwise to always rely on the guidebooks as looks can be quite deceptive. You might often fall for a picture in the guidebook that provides an enticing route description. Until you eventually reach the point, you will realize the photograph was clicked from a creative perspective. The chasm or bridge might not be as challenging as it appeared. These guidebooks try to make via ferrata routes seem more daring than they actually are.
5. Watch out for the weather.
Many mountain climbers remain unaffected by harsh weather conditions. Sun, rain, snow, or wind, these mountaineers will gear up and head off to the pinnacle at any cost. However, via ferratas require some concern. Ice and snow are not that problematic; however, they can contribute to your footholds' slippery texture. Moreover, a coming storm entails you to be cautious.
6. Via Ferratas might not always be free.
Several via ferrata routes worldwide are free of cost, specifically in the Dolomites and the Alps. These via ferratas are usually on land and accessible to everybody. However, many via ferratas are governed under commercial enterprises on privately owned lands. Hence, it is better to check for the route and estimated cost in advance.