Arriving at the airport befor exploring Penang, I was rushing to get to immigration when a friendly voice called out, "Sim Card Miss." I got a sim card and went through immigration. A few minutes later, I withdrew money while I waited for my suitcase. Then I was off in a taxi to my hotel. On the way to town, I thought this was the best start in a new country. I was ready to find out how to work while exploring Penang. I love it when it starts this easy.
This was the first time I found the opportunity to buy a local sim card before immigration at the airport. You usually have to go through immigration and customs first. I got an all-included one-month free internet use at just under 20 USD.
How to work while exploring Penang
Penang is an Island off the northwestern coast of peninsula Malaysia, connected to the mainland via bridges and ferries. It is a great Island to get some work done because not many exciting things drag you away from the office. The office I am referring to in Penang is a co-working space called @CAT. The location is in a newly restored government building housing the Science cluster of Penang in Georgetown. That office was the perfect location for me to try to combine work and exploring Penang
Malaysia's 5 regional science and Technology centers
As a nation with relatively limited resources, Malaysia firstly must ensure the desired results and high rates of return on every investment. Therefore, Malaysia's vision to transform into a knowledge-driven economy has propelled them to invest in developing Science and Technology. Exploring Penang, I found that it is one of five Regional science and technology centers to elevate Science and Technology awareness among the population. In addition, watching TV at a coffee shop, I was amazed that they had commercials explaining how to use technology.
The shortage of S&T personnel is estimated to be between 20 to 30 percent across all levels of scientific, engineering, and technical areas. Malaysia is, above all, adopting a broad-based approach to human resource development. The Regional Science centers are one approach for the government to share risk with the industries connected to the centers. And the commercials on TV explaining how to use technology are, without a doubt, increasing the knowledge of the people watching TV.
The government also initiates techno-entrepreneurship courses for all science, technology, and engineering undergraduates. Moreover, sponsors of techno-entrepreneurship competitions, angel investment funds, and venture capital funds are granted to encourage the commercialization of R&D output.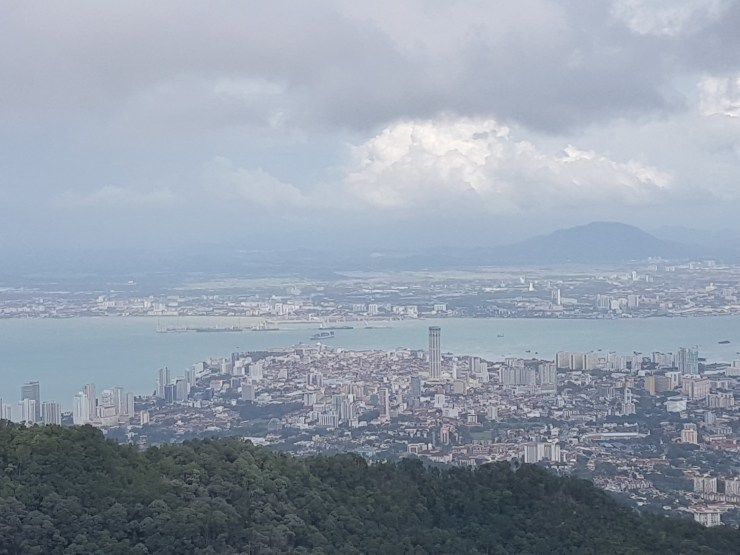 Malaysias education system
The government tries incorporating a science and technology culture into the education system. They also started programs to intensify creative thinking and problem-solving skills in primary education. Research grants to schools are again increasing secondary schools' vocational and technical skills. That is why they also intensify efforts to increase science and technology language competence to facilitate the flow of information.
Mass media to heighten public awareness, appreciation, and knowledge of science and technology is, therefore a natural consequence of the development. Malaysia's quality of journalism about Science and technology is improving due to the efforts.
Georgetown art scene
Georgetown is where it happens in Penang. This city has more than Science and coworking spaces to offer. Art and graffiti is a hunting exercises you must endure while exploring Penang and Georgetown. In addition, to make the dull and run-down facades of the old town more exciting and fun, the government hired the artist Ernest Zacharevic to give the streets of the old town a facelift. I found it entertaining and valuable to walk around the old town searching for these art pieces. Furthermore, the Artist blended humor and historical facts to veld 52 metal sculptures portraying daily life in the early settlement days.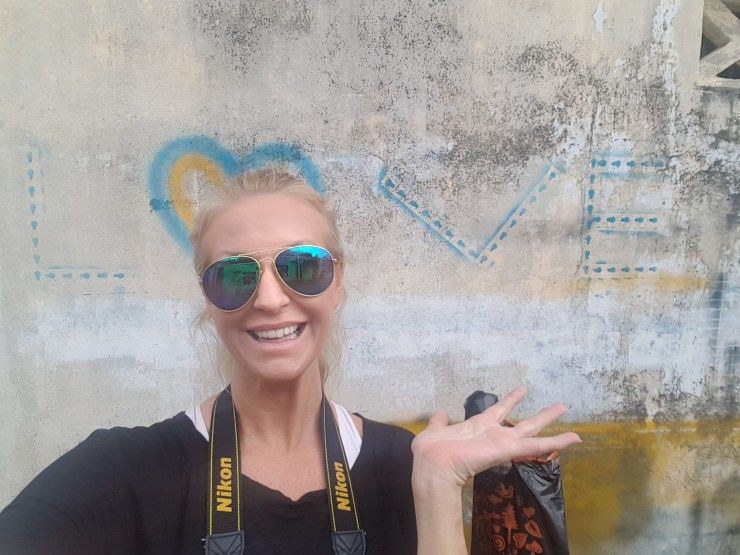 Like voices from the past, the sculptures tell the stories of the landmarks they portray. And then, the famous Love-lane, a street filled with pubs, music venues and hostels, has a welded portrait of an old Chinese climbing out the window. Further, the text tells us this is where the cheating husbands kept their mistresses, hence the name Love Lane. In addition, Zacharevic painted a series of murals and a combination of murals and gadgets attached, displaying everyday life in Penang today. Hunting for murals and sculptures around town and taking photos is a must-do when exploring Penang. I spent several mornings and afternoons wandering the streets to find new gems.
The bakery's
Another fabulous art scene in George Town is its bakeries. Not only do they have the most amazing cakes, but they also have really good cappuccino's in cool interior-decorated cafes. If you have a sweet tooth, this is definitely the city to visit. If you only visit one bakery, try China House on Beach Street. They offer a display of cakes like I never saw before. Both the size and the number of cakes were overwhelming. After all the cakes, I was in desperate need of a hike.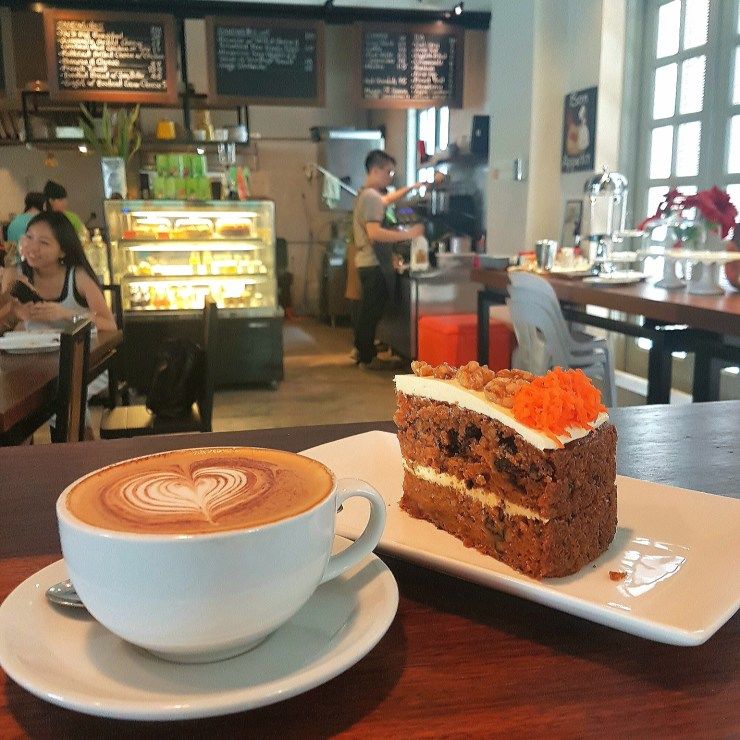 Hiking while exploring Penang
If you are in the mood for a stroll and lovely views, you could visit Penang Hill. Get on the Rapid Penang 204 bus from Komtar. The bus will stop at Penang Hill for the price of RM2,70. A Taxi would be RM35-40. The top is 833 meters above sea level, and you get up the steep hill by entering the funicular railway. This is the steepest funicular in the world. It should be noted that if you are scared of heights… or not, it is a scary ride. Particularly going down. At the top, you have gorgeous views of the city, the bridges to the mainland, and the mountains and valleys to the south. Last but not least, I recommend going for a hike in the mountains to enjoy the nice cool air up here.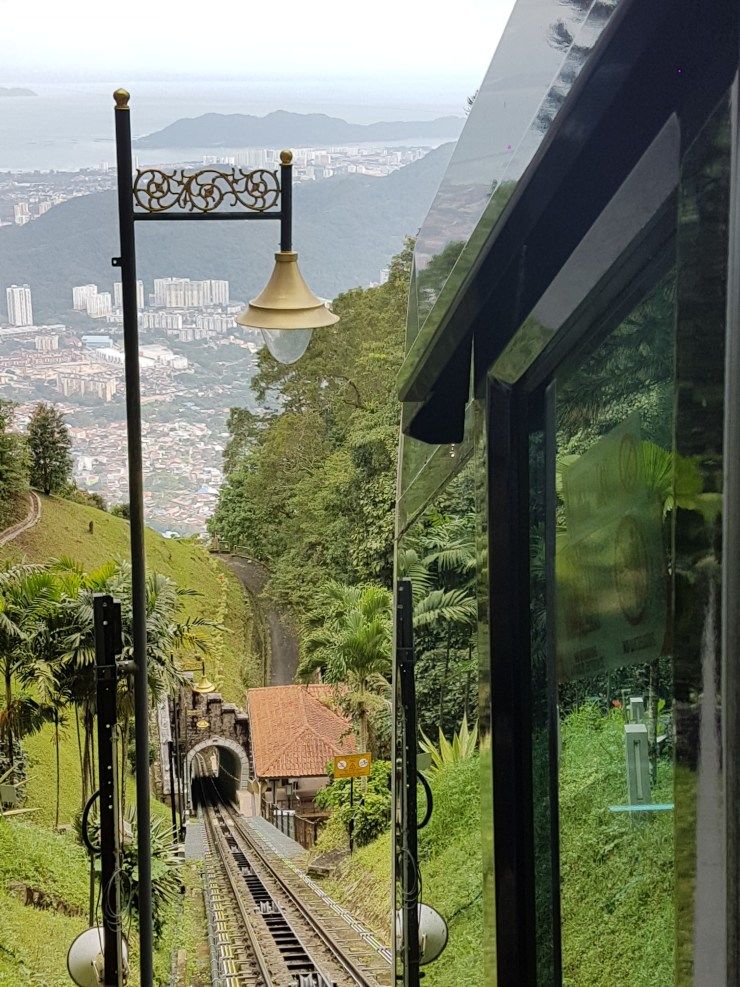 The world's smallest national park
If you want to be rewarded with a nice swim after your walk, I definitely recommend you to hike the World's smallest National park. Exploring Penang, this is not to be missed. The park is a rainforest of about 25 square kilometers on the southwest tip of Penang, 45 minutes by bus from George Town. I especially loved the walk to the beaches. Going through the Park to the lighthouse will take about 2 hours. It is a nice walk, and you will also find excellent beaches along the way.
Monkey Beach is the last and most picturesque beach you need to see. Following the beach, you go uphill to see the lighthouse. The beach got its name because the monkeys tend to visit it and raid the visitors for food. So I followed the advice of not bringing more food than I needed and eating before I went for a swim. When I was in the water – I looked back at the beautiful beach lined with coconut trees and a rainforest backdrop; it was so beautiful.
The trail to the lighthouse starts at the end of the beach and takes you 242 meters above sea level. I climbed the stairs of this beauty from 1883 that is still operational today. The view from the top overlooks the strait of Malacca.
Exploring Penang is Hawker food-heaven
Gurney Drive is a must-try place to eat. This famous Hawker food place comes alive at night, giving you a variety of the best local food in the area. They have divided the are into two sections. The part closest to the shopping malls is where you find mostly Chinese-influenced Malaysian food. The other section only serves Muslim food. After eating low-price great local food, you can walk 3 minutes to Gurney Plaza or Gurney Paragon.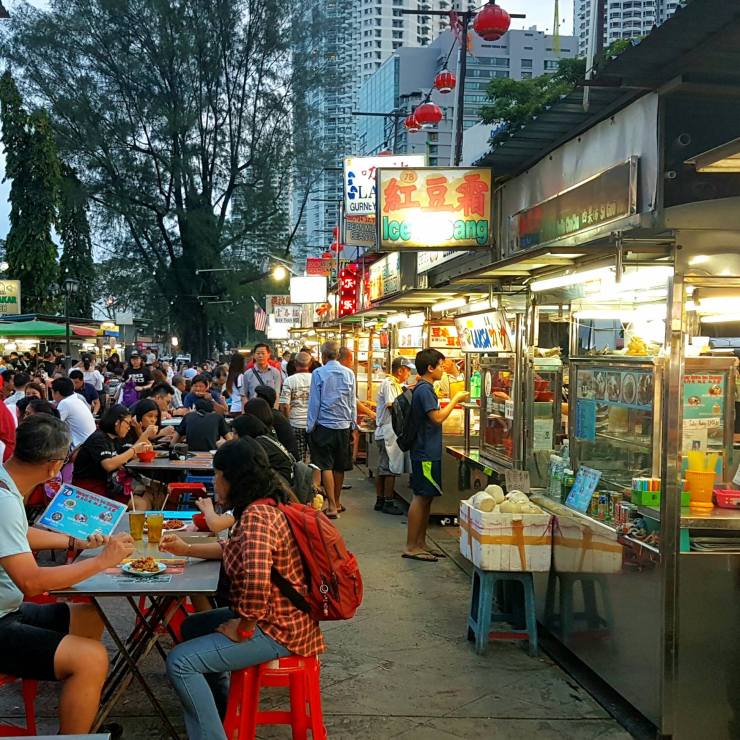 The malls
These two malls, Gurney Plaza, also called Gurney Paragon, have various bars and restaurants serving Western food and happy hour drinks, beer, and wine. Inside you can shop Western brands, check out the supermarket or food court in the basement, or watch a movie in the high-tech movie theater on the top floor. In my search for how to work and explore Penang, this was where I ended up most nights. Often accompanied by a new friend I met at the office @cat.
Getting around
Getting around when exploring Penang is cheap and easy using the bus. A bus ticket within 7 kilometers is RM2 or 50 cents. The buses go all the time and everywhere so this is an excellent way of getting around and seeing the sights. Most buses go through Komtar in George Town, so it is easy to get from A to B by changing buses at Komtar. There is also a hop on hop off bus, but if you use it, it is better to pay for one destination instead of buying a day trip. I found the hop On-Off buses to be a lot of waiting, and not much information was given on tour, so you don't learn much. I used it to go to the National Park. Other than that, I found the local buses to be faster, cheaper, and with more departures.
Co-working for Digital Nomads
Penang is an island off the northwestern coast of peninsula Malaysia, connected to the mainland via bridges and ferries. It is a great Island to get some work done because not many exciting things drag you away from the office. The office I am referring to in Penang is a co-working space called @CAT. The location is in a newly restored government building housing the Science cluster of Penang in Georgetown. This is a great location to find out how to work and explore Penang.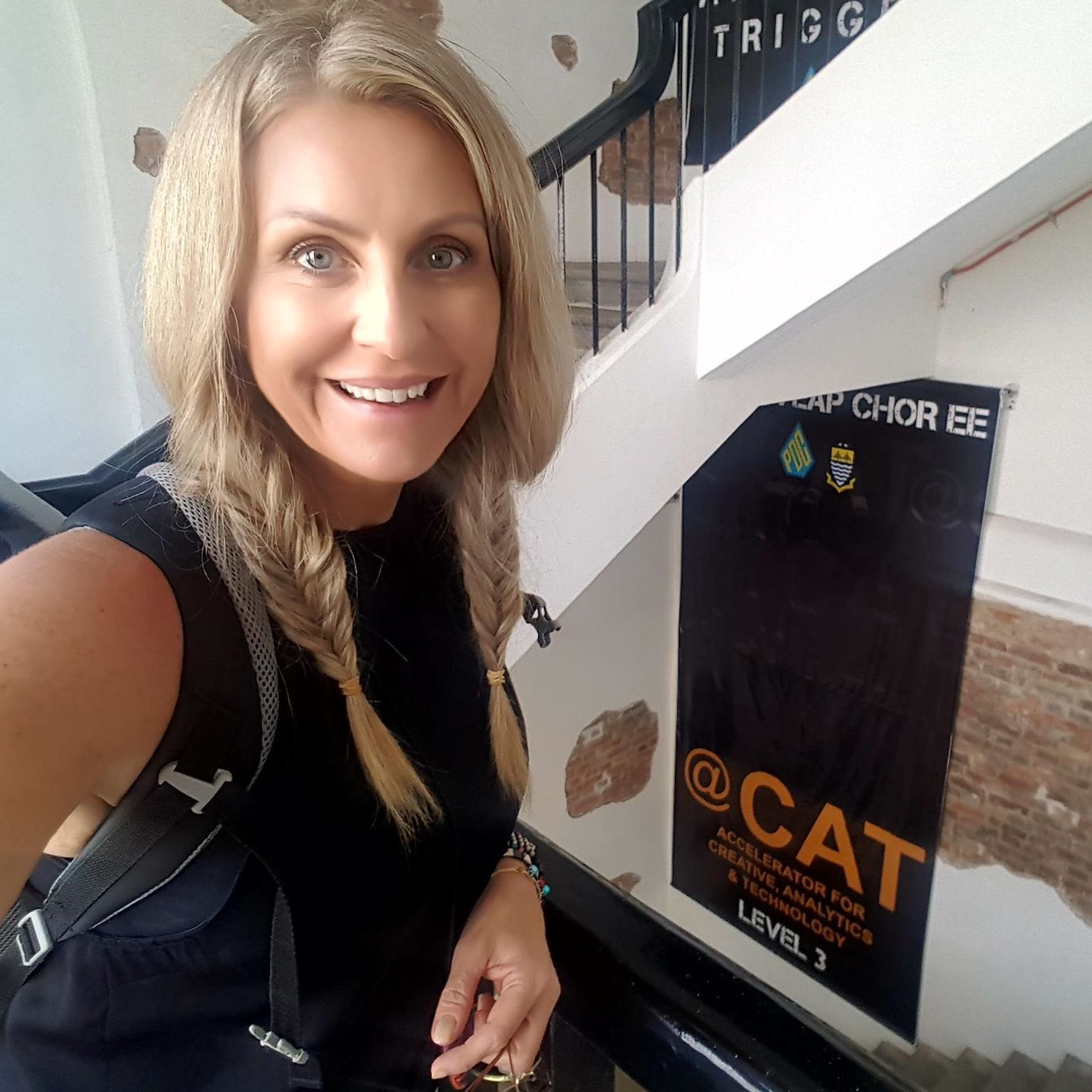 @Cat – creative thinking and problem-solving center
The month I stayed at @CAT in Penang, I watched numerous school classes play their way to knowledge in the science lab. They hosted a TEDx about Women entrepreneurs and hosted a robot competition. They also made the best pizza in town in their in-house Cafè and had an exceptionally healthy sourdough bread that the entire village came to purchase, developed in the food lab. Very tasty and often my breakfast, I might add.
Digital Nomad friendships
Meeting like-minded people around the world is like finding the gems of life. Ending days full of work and exploration with a glass of white wine for me and red for my new friend Cate was so lovely. Being a Digital Nomad can be lonely at times. Meeting new friends in the same situation can be one of these rear encounters that become lifelong friendships. Talking about the real things in life with no filter is so liberating. In addition, it helps to be far away from home, where no one knows us. It allows us to get to know ourselves deeper as we share our journey. Traveling solos is getting to know ourselves in a way we never do while surrounded by people who know us. It's like traveling deep inside, getting to know ourselves and our true nature.
I have met Cate in several places worldwide as we both journey the world and ourselves to seek and find knowledge and meaning. These evenings in Penang talking about life, what is happening in the world, and how we can all make our little contributions to make it a little better will always be with me.
I also met a few other digital nomads that I have gotten to meet again on several occasions while working and exploring Penang. A fitness couple from Romania is roaming the world doing fitness online, and a French boy is freelancing around the globe. We all had several meetups, cake dates, dinners, and lunches. We also attended a TEDx at @cat and a get-together for nomads in Georgetown.
Malaysia's vision
Malaysia may not reach its vision and be a knowledge-driven society by 2020. But this country is doing ground-breaking changes initialized by the government. Malaysia is on its way, hustling future generations to get excited about science and technology, robotics, creativity, and art. They are building infrastructure and motivating the inhabitants. On top of that, they are supporting technology-driven businesses and changing the school systems to be at the forefront of the technology-driven future. Malaysia is a country to watch in the future.
Leaving this technology-driven island, having learned how to work and explore Penang, I was ready to do it again in my next destination. I booked tickets to go to Burma.
I launched this blog in 2016 as an inspirational blog for aspiring lifestyle entrepreneurs searching for a way to combine their love for travel, adventures in the World's Great Outdoors, and a growth mindset to propel them to achieve their dream Lifestyle.
Leaving 9 -5
I saw more and more people trying to get out of the 9 to 5-time trading, and the rest of the mindset developed for the industrial era. I wanted to address my need for reliable, actionable advice to build a life of joy, purpose, and constant development instead of throwing away energy working for unfit bosses in an insecure job.
We Grow, Or We Die
The fact is, we are growing, or we are dying. – I was dying nine to five in a job that did not let me use my potential. A growth mindset means you can learn, develop and build your passion toward reaching goals and be optimistic enough to bounce back from failures. That is the mindset we need to compass the crossroads in life.
Self-development through Nature and travel
Eapecially, nature and solo travel are the best educations to open our eyes to the world's problems, help others, and grow as human beings. But we also need to belong and learn new skills to develop through life. The world's universities used to dictate where the best students got their degrees, unlike today, where several learning platforms teach lifestyle business to a global public online. These new educations focus on mindset, personal values, and goals as foundations to build a business where you live authentically. They show you how to make your dreams a reality.
If you can dream it, you can do it
-Walt Disney
Education for your reinvention
In my search through the forest of online platforms, I tried several. But the one that is: by far, the tested and proven system that has the mentors, the tribe and the tools that changed my life is "Launch You"
I was offered a FREE online course. And knew I had found the right place to grow in the digital era of online entrepreneurs. I am really happy to offer you the same possibility. Sign up below and get the FREE video series that changed my life. Check it out and listen to Stuart as he explains what you will learn. Maybe this is your way to Freedom too…